French Cuirassiers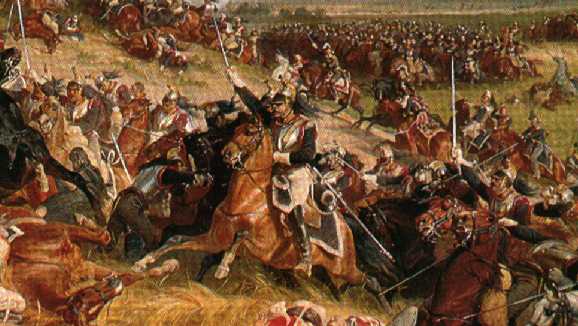 French Cuirassiers charging British squares at Waterloo.
Introduction
The heavily armoured Cuirassiers of the French army were the ultimate shock weapon. They were usually concentrated in reserve until probing attacks discovered the enemy's weak point. They would then be flung en masse at this point to break the enemy's line. The mere sight of such a deadly mass of armoured horsemen was often sufficient to break all but the steadiest infantry - a credit to the British squares at Waterloo. Imitation is the best form of flattery - to this day, the British household cavalry retains the cuirass as part of its full-dress uniform.
Organisation
By 1810, there were a total of 14 Cuirassier regiments. Each regiment was composed of 5 squadrons. Each squadron consisted of 2 companies. Each company had a paper strength of 100 officers, NCOs and men. Thus, the official establishment of a Cuirassier regiment was 1000 officers, NCOs and men. However, actual unit strength was much lower. During the 1805 campaign, the average strength of a Cuirassier regiment was about 500 men.
Uniforms
Headgear was a steel helmet with flowing black horsehair mane. The plume was not usually worn on campaign. Plumes were white for senior officers and scarlet for the other ranks.
The coat was dark blue with scarlet epaulettes. A steel cuirass was worn over the coat. Regimental facing colours were displayed on the turnbacks, on the collar and/or cuffs.
Breeches were buff with knee-high boots.
Facing colours were as follows:
Scarlet:
1st (Collar and cuffs)
2nd (Cuffs only - dark blue collar with scarlet piping)
3rd (Collar only - dark blue cuffs with scarlet piping)
Aurore (Pale gold with a touch of pink):
4th (Collar and cuffs)
5th (Cuffs only - dark blue collar with aurore piping)
6th (Collar only - dark blue cuffs with aurore piping)
Primrose:
7th (Collar and cuffs)
8th (Cuffs only - dark blue collar with primrose piping)
9th (Collar only - dark blue cuffs with primrose piping)
Pink:
10th (Collar and cuffs)
11th (Cuffs only - dark blue collar with pink piping)
12th (Collar only - dark blue cuffs with pink piping)
Lie de Vin:
13th (Collar and cuffs)
14th (Cuffs only - dark blue collar with lie de vin piping)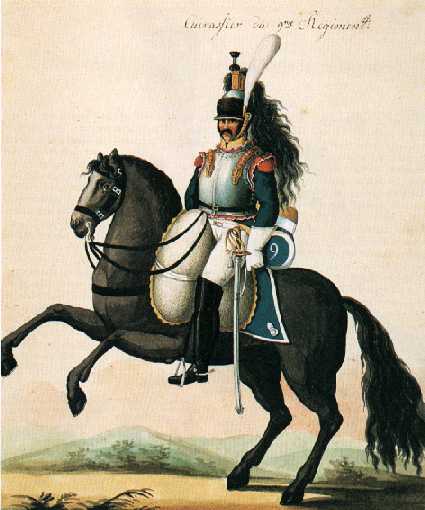 Cuirassier of the 9th Regiment
Note - for the sake of clarity, the above description has been simplified. It should suffice for wargamers. For more detail, please consult the following references:
Haythornthwaite - Uniforms of the Peninsular War
Haythornthwaite - Uniforms of Waterloo
Chartrand - Napoleonic Wars: Napoleon's Army (Brassey)
Napoleon's Cuirassiers and Carabiniers (Osprey Men-at-Arms)
Pericoli - The Armies at Waterloo
Fred and Liliane Funcken - Historische Uniformen
[an error occurred while processing this directive]