MAIDA - 4 July 1806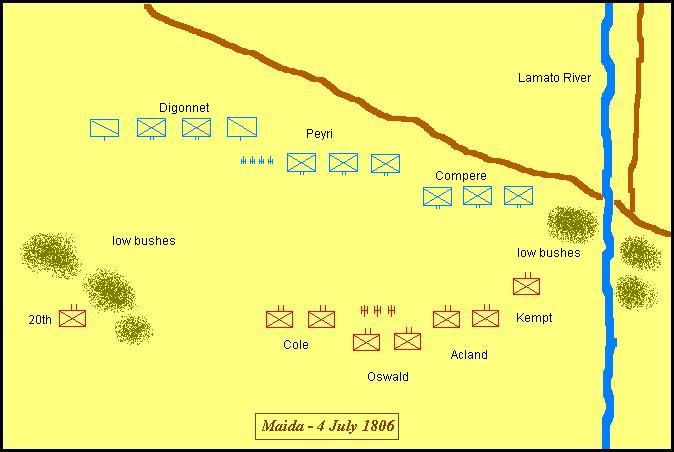 Order of Battle
British
C-in-C - Major Gen Sir John Stuart
Advance Guard - Col John Kempt
| | | |
| --- | --- | --- |
| Battalions | Unit | Strength |
| 1 | Combined Light Bn | 660 |
| 2 coys | Corsican Rangers (dressed like Rifles - with Red facings) | 200 |
| 1 coy | Sicilian Volunteers | 100 |
First Brigade - Col Lowry Cole
| | | |
| --- | --- | --- |
| Battalions | Unit | Strength |
| 1 | Combined Grenadier Bn | 660 |
| 1 | 27th Regt - Inniskilling (Buff facings) | 660 |
Second Brigade - Col Acland
| | | |
| --- | --- | --- |
| Battalions | Unit | Strength |
| 1 | 78th Highland Regt - Ross-shire Buffs (Buff facings - Kilted) | 660 |
| 1 | 81st Regt - (Buff facings) | 660 |
Third Brigade - Col Oswald
| | | |
| --- | --- | --- |
| Battalions | Unit | Strength |
| 1 | 20th Regt - East Devonshire (Yellow facings) | 600 |
| 1 | 58th Regt - Rutlandshire (Black facings) | 600 |
| 5 coys | De Watteville's Swiss (Black facings) | 300 |
1 RHA Bty (3 guns - 136 men)
French
C-in-C - Gen de Division Jean Louis Reynier
GdB Compere's Brigade
| | | |
| --- | --- | --- |
| Battalions | Unit | Strength |
| 2 | 1er Regt Inf Legere | 1500 |
| 1 | 42e Regt Inf Ligne | 750 |
GdB Digonnet's Brigade
| | | |
| --- | --- | --- |
| Battalions | Unit | Strength |
| 2 | 23e Regt Inf Legere | 1500 |
| 2 | 1er Regt Inf Polish-Italian Legion | 1500 |
GdB Peyri's Brigade
| | | |
| --- | --- | --- |
| Battalions | Unit | Strength |
| 1 | 1er Regt Inf Suisse | 750 |
Cavalry
| | | |
| --- | --- | --- |
| 4 Sqns | Chasseurs a Cheval | 300 |
1 Bty Horse Artillery (4 guns - 112 men)
. . . . .
Notes:
Battalion strengths are approximate - i.e. based on brigade strengths divided by no. of battalions.
Uniform details from Liliane and Funcken - Historische Uniformen
Strength of Chasseurs a Cheval from Neillands' - Wellington and Napoleon
Sources:
- Order of Battle from Digby Smith's - Napoleonic Wars Data Book
- Additional details from Robin Neillands' - Wellington and Napoleon
- First Empire #38
Map - after a sketch from The Courier #1/6
My thanks to Rafael Mackenzie and Allan Mountford for bringing the Map and the 2 magazine articles to my attention.
Thanks also to AR Charles for suggesting Maida as an ideal divisional sized wargame scenario.